Past Horses
***Any horse with an asterisk (*) in front of its name is eligible for the Starstruck Incentive Program. Click here to learn more!***
She's A Heart Ache "Bella"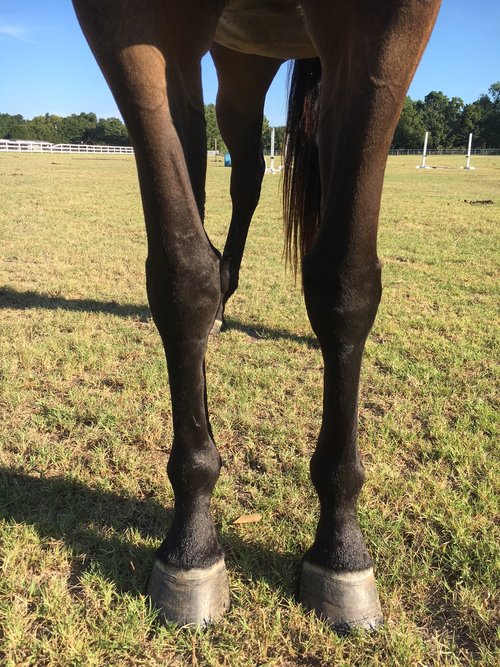 Sire: Run Production
Dam: Holly Beach (x Bag)
2012 16.2hh Jockey Club Mare
Bella is a jaw-dropping, absolutely gorgeous mare who retired soundly after 25 races. She has a fantastic work ethic and is going to be a real head turner with some more training. This girl just screams Eventer. She has the movement to place very well in the dressage phases and the bold personality to be a beast on xc with proper development.

Bella was let down for over a year after her race career was finished came back into training ready to work. I don't use the term "UL prospect" on many of my sale horses, but I will say I think this girl has what it takes.
What is she doing now?
Bella is enjoying life as a riding partner for her teenage owner Bella (yes, they both share the same name!). Every horse deserves once in their life to be loved by a girl, and this one got her chance!
*Hey Bartender "Bentley"

Sire: Behindatthebar
Dam: Time Lasts
2012 16.1hh Jockey Club Gelding
Bentley has a great pedigree for sport and a fantastic brain to go along with it. He is quiet enough to pack around beginner riders on the flat and fancy enough to take home some ribbons once he is finished. He is a quick learner, has an extremely cute jump and is very willing to please. He has lovely movement and a nice, large, steady stride to make it down the lines in the hunter ring.
What is he doing now?
Bentley will be competing with his new owner Addison in IEA shows as a hunter. He could not have found a better home!
Sire: PS Sign The Card
Dam: Caravella
2010 16.1hh Appendix Mare
Capri was purchased as a weanling from her breeder Randy Halvorsrod in Florida. She then came to Starstruck Eventing where she Evented up through Novice level. She is an incredibly sweet and willing mare and will take her new owner very far!
What is she doing now?
Capri is now owned and loved by Tim Shane of Dallas, TX. They have been competing in Dressage and bringing home the blues. We absolutely cannot wait to see what they accomplish in the future!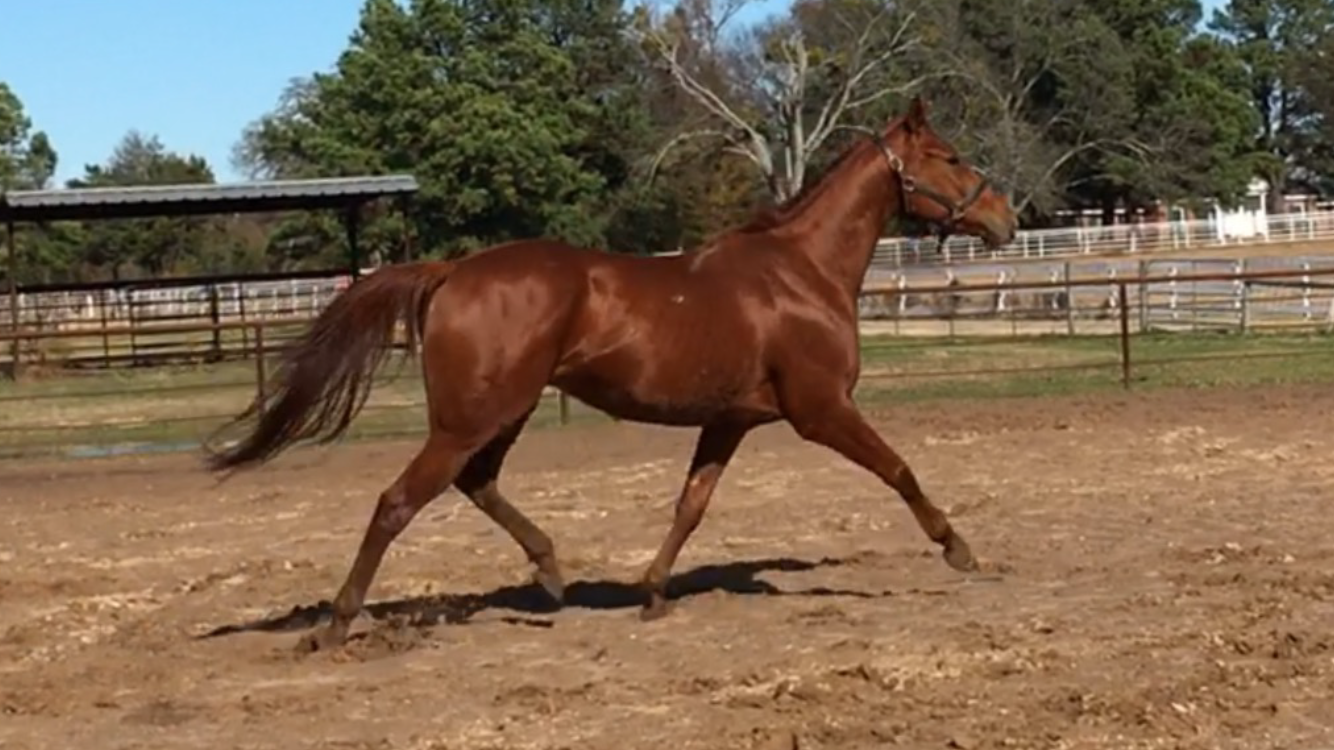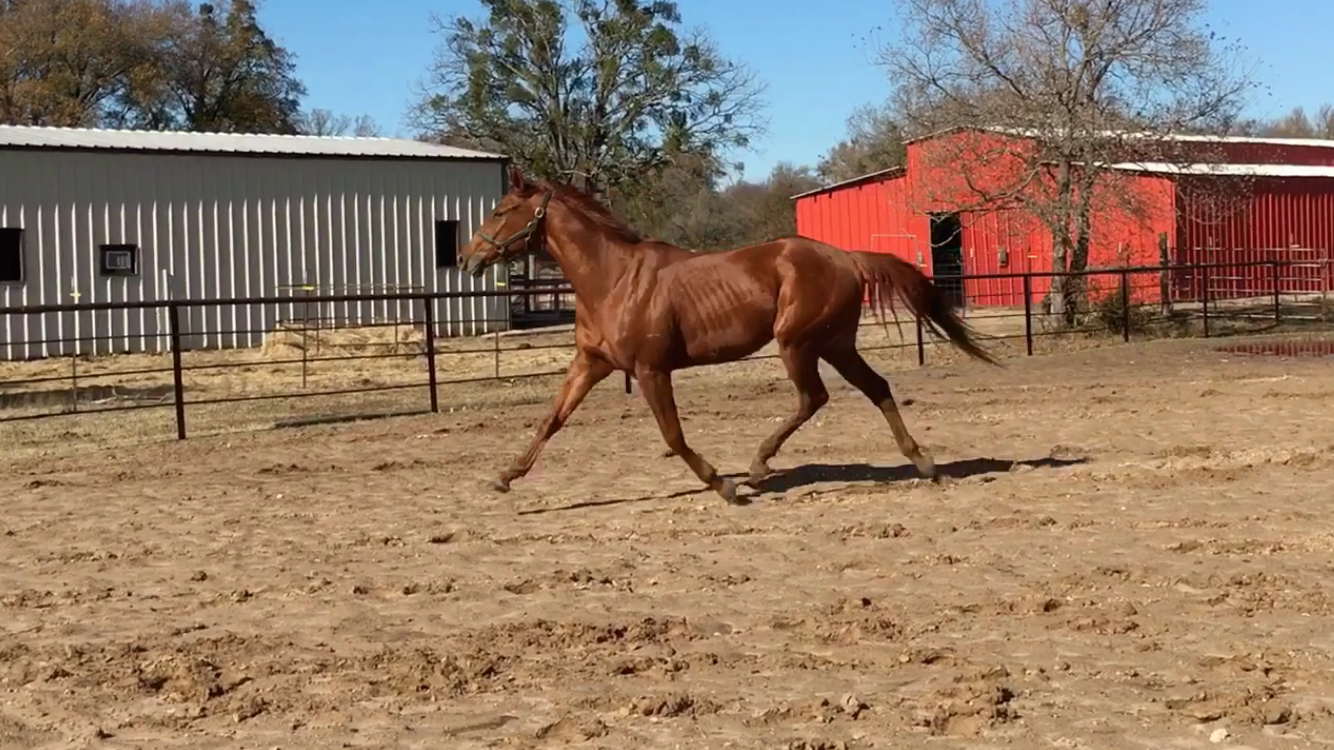 Sire: Euroears
Dam: Hun E Hit
2014 16hh Thoroughbred Gelding
I cannot stress enough how incredibly sweet this guy is. Last raced 11/11/2017 and has clean, cold, tight legs. Was led out of his track stall without a shank and proceeded to nuzzle me for 5 minutes. His sire Euroears is quickly becoming known for siring athletic, pretty, amateur friendly horses. This guy is sound barefoot and is an incredibly nice sport horse prospect.
What is he doing now?
Tuco will be continuing his education with his new owner in Oklahoma.
*Perseus "Percy"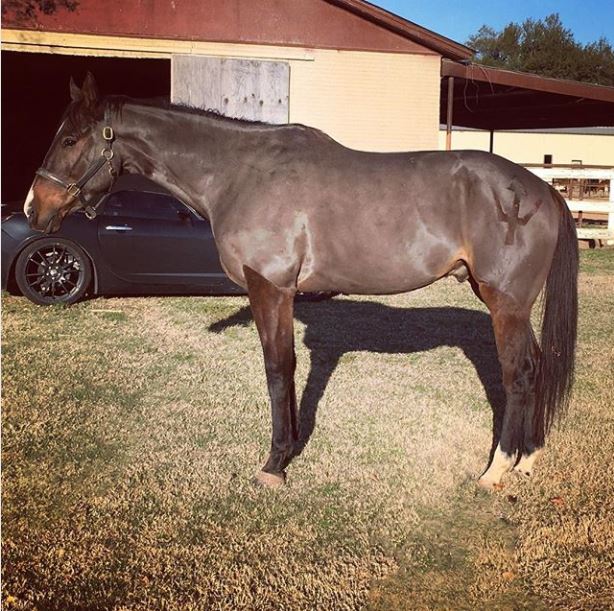 JC Name: Swaggy's Se'Cute
Sire: Nacimiento
Dam: Koleta Bend
2012 16.1hh Thoroughbred Gelding

Percy is an incredibly sweet and talented gelding. His quiet demeanor belies his natural talent and athleticism. This guy is ready to go BN and with a few more schoolings will likely be ready for Novice. He has been to one Jumper schooling show (which he was perfect at) and has been xc schooling a few times now. Soft and responsive to aids, gives lead changes when asked about 80% of the time now, schooling lateral work and best of all can take a joke over jumps. Will jump from any distance you give him. Needs an intermediate rider (due to being responsive to aids) but could be a total packer with a bit more training. This guy is super nice... He gets better every day and is trying his hardest to get me to keep him.
What is he doing now?
Percy will be competing with his new owner in Eventing.
Sky High N Toasted "Kodi"
Sire: Poco Toast (AQHA)
Dam: Mininsky (JC)
2014 15hh Gray Appendix Gelding
This guy is a SPECTACULAR mover. I'd give my right arm to have everyone in the barn have his movement. Serious wow factor. He has been started under saddle but is still very very green. Great minded and if you can look past the fact that he won't be 16+ hands, this guy could be something really really special. Clean slate and ready to take any direction you want. Sweet and willing as they come. Sound, sane, no vices.
What is he doing now?
Kodi is continuing his education with his new owner in Oklahoma.
Trulee Peachs N Cream "Peaches"
Sire: Trulee Unreal
Dam: Ms Buttercup Belle
2002 15.1hh Palomino APHA SPB/PHBA Mare
Peaches is truly a once in a lifetime horse. She is quiet and easy enough for a complete beginner rider, yet talented enough to be competitive at the World Show level. She is a stunning dark golden color with great conformation, superb movement and an outstanding mind. She has points and experience in Western Pleasure, Trail, Horsemanship, Showmanship, Road Hack, Hunter Hack, and Equitation. She has absolutely no vices or soundness issues.
Career Highlights:
PHBA World Champion - NA Trail
PHBA Reserve World Champion - Senior Hunter Hack
PHBA World Show Top Five - NA Horsemanship
PHBA World Show Top Five - NA Equitation
PHBA World Show Top Ten - NA Showmanship
PHBA World Show Top Ten - NA Western Pleasure
Multiple Year End Honor Roll Awards
Multiple Year End High Point Awards
What is she doing now?
Peaches is continuing her competitive career in PHBA with her new owner Leslie C.
Leslie had this to say about her experience buying Peaches:
"I purchased my Palomino Quarter Horse mare Trulee Peaches 'N Cream from Nikki on December 29, 2016. Peaches is so sweet and well trained. Nikki helped me with some of my paperwork after I had already went home with Peaches. Nikki checked back with me to make sure everything was taken care of. I had a few questions that I wanted to ask Nikki about Peaches and she responded back to me quickly and in a professional manner. Simply put, Nikki Littrell is a class act and follows through! I highly recommend Starstruck Eventing!"
Sire: Zips Clue
Dam: Hug Ez Investor
2004 14.1hh Palomino AQHA/PHBA Mare
Bailey is a gorgeous athletic mare who is the first one to greet you in the pasture. She is incredibly sweet and willing and will pack around even the most novice rider. Although she is bred for Western Pleasure, she has shown herself to be much more suited to ranch horse events and mounted shooting. Her unflappable demeanor makes her a perfect fit for these high octane events. Bailey is 100% sound and does not have any vices. Easy to trailer, tie, clip, bathe, fly spray, etc.
What is she doing now?
Bailey is continuing her career in mounted shooting with her new owner Leslie V. She is enjoying life as a pampered addition to Leslie's herd.
Leslie had this to say about her experience buying Bailey:
"I recently purchased my mounted shooting mare, Bailey, from Nikki after contacting her through a Facebook listing. The ad was very honest and accurate, and Nikki allowed me to take Bailey home for a 2 week trial and prepurchase exam. She wanted to ensure Bailey would be a good fit for me, as much as I did, and there was no pressure on the sale. I am absolutely thrilled with Bailey, and Nikki made the experience very positive. As a therapeutic riding instructor, I have pretty big expectations of a horse when it comes to disposition, ground handling and manners, as well as riding, and I have not been disappointed. I believe this is a testament to Nikki's integrity and versatility as a trainer, to create a willing and well rounded horse well suited to it's discipline. I received Bailey's registration papers with completed transfers without any issue, and Nikki has been easy to communicate with about questions I've had, even after the sale."
Sire: Black Flash Tempest
Dam: Midnight Black Lacy
2011 15hh Black Tobiano APHA Gelding
Ruger is a lovely athletic gelding the perfect size for a child or petite Adult Amateur rider. He is about as bombproof as they come as a 5 year old. I haven't found anything that phases this guy. He has lovely gaits, a spectacular jump and is a very affectionate horse. He always wants to be in the middle of whatever is going on.
What is he doing now?
Ruger is enjoying life as a family riding horse with his new owner Haydeh D.
Haydeh had this to say about her experience buying Ruger:
"Nikki sold us a horse that she had trained. We could not be happier with him. He has a puppy dog personality and I think that stems from her taking such good care of him - training him with love and patience. Highly recommend."
Sire: Teunis 332
Dam: Oege 267 PREF
1997 15.1hh Black Friesian Gelding
Swier is a very gentle older schoolmaster type gelding. Trained to 2nd level in Dressage, he is just as happy to plod along on the trail as he is fancy prance in an arena. He is more of a kick ride and is what I would call a truly bombproof horse. He will gladly pack around someone who doesn't have a secure seat or is a timid rider. I've never seen this gelding spook at anything. He looks like he came straight out of a fairy tale with his gorgeous long flowing mane and tail. He is easy to trailer, clip, tie, stands quietly for the farrier, baths and fly spray. He is 100% sound and does not have any vices.
What is he doing now?
Swier is enjoying the life of a trail riding horse in South Carolina with his new owner Emily A.
Emily had this to say about her experience buying Swier:
"I bought my Friesian off of Nikki from a Facebook forum sight unseen and had him shipped to me. My dressage trainer said she couldn't believe how sound and fluid he is for his age. I think this is mostly due to being in such good care for his life. Not only did he come to me completely sound and put together, he is very well mannered and kind. I can't thank Nikki enough and would highly recommend her as an honest horsewoman."
Sire: Reinvest In Gold
Dam: Trulee Peachs N Cream
2010 14.3hh Palomino APHA SPB/PHBA Gelding
Fella was born here at Starstruck Eventing and is what we like to refer to as "born broke". He has been extremely quiet and inquisitive since the day he was born. He was started as a 3 year old and although he was bred for Western Pleasure, he showed much more aptitude towards the English events. His large stride and amazing jump make him a natural fit as a Hunter or Eventer.
What is he doing now?
Fella is currently competing at the Beginner Novice level in Eventing and spends his extra time packing around his 5 year old owner. He is without a doubt the most spoiled pony on the planet.
Sire: Unknown
Dam: Unknown
2007 14.3hh Sorrel Grade Mare
Trixie is a lovely little mare who tries very hard to please. Her bright copper coat is very eye catching and is complimented by a pretty little star and strip. She is more of a sensitive type mare and needs at least an intermediate rider until she is a little further along in her training. She is quiet and respectful on the ground with no vices or soundness issues. She will be suited to almost any discipline though we feel she would excel in Western Dressage.
What is she doing now?
Trixie is now competing with her junior owner Kirsty B. in Working Equitation. Watching these two grow together as a pair has been one of the most fulfilling experiences I have ever had selling a horse.
Sire: Our Emblem
Dam: Discovered Secret
2004 16.2hh Bay Thoroughbred Gelding
Calvin is one of the most natural, athletic jumpers I have ever ridden. He is very brave to the fences, yet also extremely careful over them. He is quiet enough for an advanced beginner rider and talented enough to take a more experienced rider up the levels. He struggles a bit in his dressage work, but is making progress in that aspect every day.
What is he doing now?
Calvin is enjoying life as a Hunter with his new owner in The Woodlands, TX.
ChocolateHugsNKisses "Willow"
Sire: Mr Chocolate Zipster
Dam: Hug Ez Investor
2004 14.1hh Buckskin AQHA Mare
Willow is a beautiful little mare who would be suited to almost any discipline. She is bred for Western Pleasure but has also taken to jumping quite easily. She has the cutest, most comfortable jog you ever sat and a very soft and balanced canter. She is broke and quiet enough to pack around beginner riders both in the arena and out on the trail. She is 100% sound and has no vices.